Colorado Rocky Mountain Regional Camp Out VI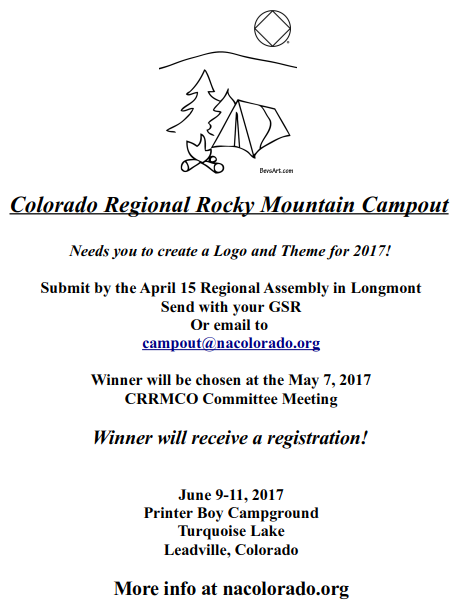 Friday June 09th – Sunday June 11th, 2017
Click to Download Logo Flier
2017 Online Registration
Online Registration will be open on this webpage; from April 1st, 2017 until about June 1st, 2017. Registration can also be done in person at regional events and at the CRRMCO VI campsite upon arrival.

Registration Price

$20 Adult through June 1
$25 CRRMCO VI Campsite
$5 Kids
Registration covers camping fees for the weekend, dinner on Saturday night and breakfast on Sunday. Please bring some food to share at the Saturday potluck dinner. We will supply burgers and hotdogs.

Merchandise, t shirt & Hoodie sales
Mail-In Pre-Registration:
CRRMCO PO Box 1437
Denver, CO 80201
Deadline: 5/20/17
Download Registration Form Here

Pre-Register in person at Regional Events:
April 15, 2017 at the Regional Assembly

April 29, 2017 at the Sponsor/Sponsee Breakfast

Flier and Schedule
All the Campout Details in one easy place (Details may change). View it, print it, and share it!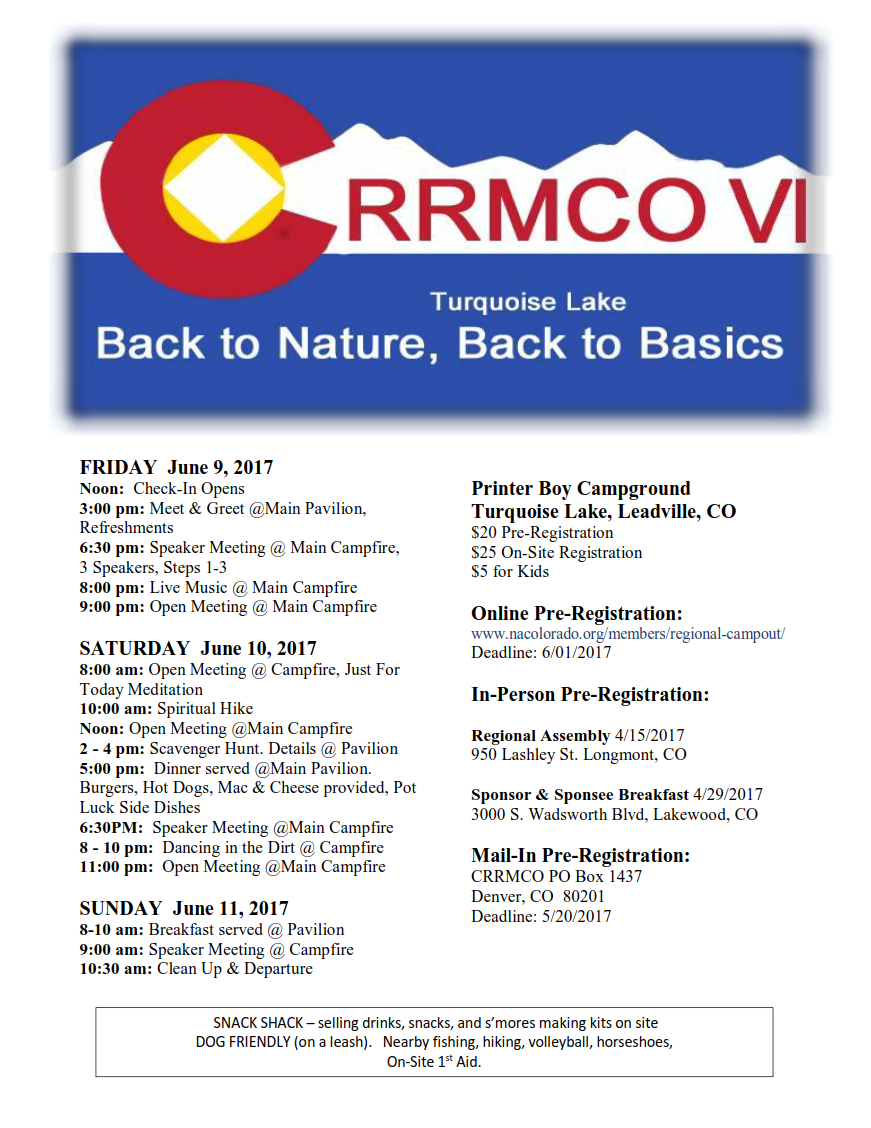 Getting there from Denver:
Go I-70 West (approx. 75 miles)
Take exit 195 onto CO-91 South toward Leadville
Go past Copper Mountain and over Fremont Pass into
Leadville (approx. 20 miles)
Sharp Right onto US-24 West (this is just before Leadville)
Turn Left onto Co Rd 99
Turn Right onto County Road 9 (cross railroad tracks)
Turn Right onto County Road 9/Turquoise Lake Rd
Follow signs to Printer Boy Campground on Right
We have all four camp sites 1-2-3-4